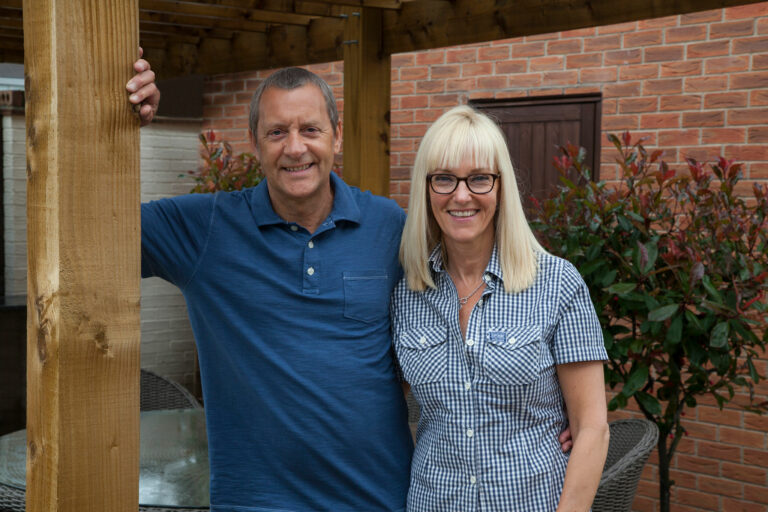 ABOUT US
Fence-Aid, the company behind the Post Buddy fence post repair system was founded in 2010 by husband and wife, Wayne and Gaby Phelan.
The family business based in Sheffield, South Yorkshire, first began in the Phelans' back garden when a broken fence post caused their fence to lean. Wayne did not relish the thought of digging out and replacing the damaged fence post. He knew that existing products on the market made for back-breaking, time-consuming work. Looking for a quicker, easier solution, Wayne, a former Development Project Manager, came up with new ideas on how to fix a leaning fence.……..and Post Buddy was born.
Both Wayne and Gaby committed themselves to their new business venture and Gaby uses her experience as a PA to ensure Fence-Aid's customers receive top quality service. Together Gaby and Wayne continue to grow and develop the company.
THE PRESENT & FUTURE
In an ongoing effort to improve the system, Wayne has further refined Post Buddy. The saw toothed ribbing now features continuously for the bottom third of the fence post repair stake, which gives the system even more grip, allowing for better anchorage to secure the Post Buddy to the fence post base.
What started as a simple home DIY project to repair broken fence posts has gone from strength to strength. Post Buddy sales have soared and in November 2014 Fence-Aid had the opportunity to set up in the USA.  More recently this ingenious fence post repair system has also been available in Canada.
In the U.S. and Canada Post Buddys can be purchased on Amazon.  Amazon process all Post Buddy orders quickly and efficiently.
Fence- Aid is continuing to grow and export will hopefully soon expand sales to more countries.
You can keep up to date with all things Post Buddy by following us on social media.

THE QUICK, EASY, AFFORDABLE WAY TO REPAIR YOUR TIMBER FENCE POST
BUY NOW